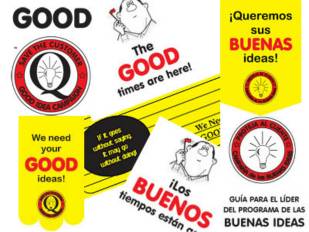 The Good Idea Customer Service Culture Campaign focuses on two things only: quality and customer satisfaction.
A 30-day special event encourages everyone to seek out ways to improve their work and eliminate recurring problems facing the company.
Beyond providing a dose of much needed energy for existing programs, the Good Idea campaign creates a high level of involvement among employees, fosters a dialogue across the hierarchy and allows for the dispersal of creative ideas. It's a short campaign that affects your company long term while immediately enhancing morale.
More than 3,000 companies have successfully used the Good Idea Campaign. They have used our ideas and strategies to the tune of millions of dollars in savings and improvements.
What are you waiting for? Get on board today, eliminate pointless problems and make your workplace into the place it should be by ordering Good Idea Campaign from Service Quality Institute.