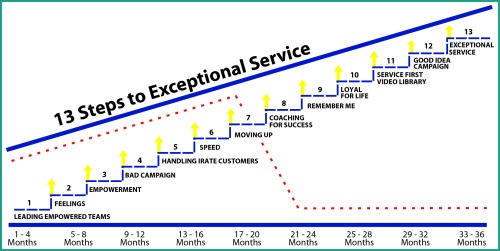 This chart shows Service Quality Institute's 3-year customer service culture plan. Built to help your company implement a superior culture, it is tailored to your needs and environment. New customer service programs should be kicked off every four to six months, while there should be a 12 month period between BAD and GOOD Idea Campaigns.
Is money a concern? Start with our low risk and inexpensive BAD cost reduction campaign and use some of the savings to fund the entire three-year plan.
Creating a Service Culture by John Tschohl (In-Depth)
Creating a Service Culture by John Tschohl (Brief)
Additionally, we have a more expansive service culture plan that starts at $217/year per person for companies of 50-99 employees and goes down to $38/year per person for companies counting 10,000 or more employees.
Click to view the Service Culture Proposal
This plan includes unlimited use of our training programs, all Train the Trainer sessions and a free John Tschohl Strategic Customer Service Seminar when 2,500 or more individuals sign up. Tschohl's books, including Achieving Excellence Through Customer Service and Empowerment: A Way of Life, and customization and shipping fees are not included. There is no charge for employee turnover.