Client Testimonials
Service Quality Institute gives companies all over the world the techniques and training to make and keep quality customer relationships. Loyal, returning customers drive more revenue each year in every industry worldwide than new customers, making quality customer service an essential element to any sales strategy. Through training programs, conferences, books and other materials, your employees can learn about the value of a service culture from customer service guru John Tschohl and SQI.
SQI's training programs, conferences, and other materials empower employees and help to create happy, loyal customers. SQI has already helped hundreds of companies across the world drive sales through customer loyalty, and create an organized system for improving customer relationships. With easy to follow materials and guided strategies to resolve conflict in any industry or step in the process, managers and company decisions makers are empowering their businesses with unbeatable customer service tools.
Read the customer service testimonials to see how business leaders are improving their company performance through quality service. Introduce these powerful tools into your company and start growing business success through customer satisfaction.
Video Testimonials
Joe Reimer – Caribbean Tire
Oscar Orozco, Executive Director, Banco Proamerica, El Salvador
Eduard Kim, President Technodom, Almaty, Kazakhstan
Edgar Gallo, Corporacion E Wong, Lima, Peru
Samuel Sarpong, CEO & Executive Director, GCB Bank Limited, Ghana
Written Testimonials
Solomon Debebe
Managing Director
Ethiopian Aviation Academy
"Ethiopian Airlines has been the beneficiary of the Service Quality Institute(SQI) Customer Service training program aimed at creating and building customer service culture which puts the customer at the center stage and ensure a sustainable success. Ethiopian Airlines strongly believes that it is a customer service Organization that happens to be an Airline and achieving excellence through customer service is the key to differentiating itself from the crowd/pack and winning.
To this end it subscribed to SQI Service culture program back in 2011 when I was the Vice President customer service and it has since demonstrated visible improvement in customer service and today customer service improvement training in different forms is a continuous business and has become a way of life. Today Ethiopian Airlines is not only a customer of SQI but through its modern and state of the Art Aviation Academy is also a partner promoting SQI products and offerings to businesses in Ethiopia. We are receiving strong positive feedbacks and witnessing visible customer service improvements from our joint customers in Ethiopia."
Mauricio Gomez M
Costa Rica Corporate Servicies Manager
Componentes Intel de Costa Rica
"We are glad to let you know that since three years ago we have been able at Intel Costa Rica to increase team productivity by the deployment of Services First program. Has been fundamental to accelerate team execution under operational excellence model. Site leadership mindset is feedback is critical to directly address customer, supplier and stakeholder problems and issues quickly. Our mission declaration consider: Provide Services Quality framework and Best Know Method's following Services Quality Institute as references for employees or organizations that want to accelerate business execution by mastery Business Partners/Customer Experience knowledge. Our Key Results consider: ï'· Core team fully certified as trainers of "Services First". ï'· Teach as much as we can our internal partners in this journey. ï'· Certified teams able to achieve minimum Self-assessment Passing Score. This has been an audacious goal to achieved, but we are confident that the value add to our organizations will be remarkable."
Cleopas Chiketa, CPF
"My name is Cleopas Chiketa I am a Deputy Director with Reserve Bank of Zimbabwe. I worked with Service Quality Institute SQI 3 Year Culture Plan . The module on Feelings for Professionals assisted our Econet Wireless Zimbabwe team when we ran the session . It dismantled all silo mentalities and connected cross functional teams and everyone was scoped for service . The program made every staff member a front liner in their thinking as all focused on satisfying the external clients and generate value."
Oscar M. Orozco, Senior
"During the past 16 years, my organization has utilized many of the programs that The Service Quality Institute has produced. Beginning with the original; Service First - Video Library, Leading Empowered Teams, Loyal for life and Feelings. All of them are outstanding programs to initiate a Customer Service Culture in any organization that is serious about developing a Service Strategy that will shadow its competition.
Most recently this year, we have started to train our staffs with the newest program that Mr. John Tschohl launched; Empowerment – A way of life.
The quality of this program is unequal to prior ones, in my opinion this one is one of John´s best. The excellent quality of the videos and detailed to its minute concept; Trainers Manuel and The Participants´ Handbook, is a master´s work."
Teresa Cueva, President
"Thanks to these programs, professionally designed by SQI, we have been able to impact more than 100,000 Peruvians (workers of different levels and leaders) who today have a strong service culture"
Rodney G. Williamson, Manager
"The Exceptional Service program is very easy for our team members to understand and they are able to relate to the situations the DVD provides."
Erin Schwie Langston , Strategic Customer Services, City of Dallas
"This is one of the only training programs that specifically addresses the unique customer service aspect from a government, not business, perspective."
Luis Abadia , Parts Manager, Guatemala, Central America
"Immediately after the first session, there were obvious changes in my staff, both in the way they deal with customers, and in communication with co-workers and supervisors."
Jose R. Mariategui , President, JLT Peru
"Ever since we hired your company, the client retention has increased tremendously and I am receiving very positive feedback from our clients."
Juan Torres , General Manager, Amadeus East Africa
"I have to admit that the team has changed, it is more focused on quality customer service and it takes much more empowered decisions than before and the results in the business are tangible."
Ethiopian Aviation Academy Trains 823 CBE Employees
Ethiopian Aviation Academy conducted a customer service training entitled "Delighting the Customer" to a total of 823 employees of the Commercial Bank of Ethiopia (CBE). The training was held from July to September, 2015 under the theme "Feelings for Professionals" highlighting the importance of feeling and professionalism for excellent customer service.
The participants include front line employees, first line supervisors and branch managers stationed in Addis Ababa, Mekelle, Dire Dawa, Bahir Dar and Jimma. According to the participants, the training was motivating, inspiring and a true wake-up call to what customer service is all about. They also said that they witnessed how important professionalism and feeling good about oneself is in providing excellent customer service. The Academy thanked the instructors and their colleagues for the successful training.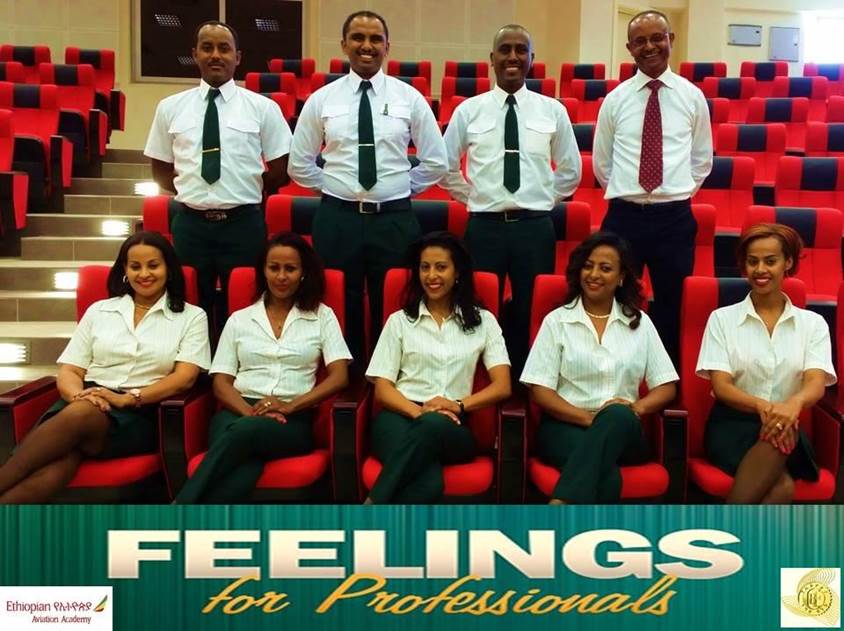 This is the second time that the Academy gave such courses to trainees who are not employees of Ethiopian as part of discharging the Company's social responsibility by sharing its best experiences in leadership and management to different public institutions and enterprises, generating revenue for itself in the process.