Matthew, Patricia, John Tschohl
"I'm just 'wild' about Wilderness Safari in Botswana". Why? In May I took a break from seminars in Kenya for Amadeus and Botswana for InXcellence to go on safari with Wilderness Safari. www.Wilderness-Safari.com. My wife and son joined me and were amazed at the royal treatment we received.
We went to Kings Pool in Botswana first. A first class high end plus resort that can handle about 20 guests. When we were there about 15 guests in camp. They have over 100 employees. They have 5 meals and snacks a day and our day started at 6 AM with fresh coffee brought directly to us. A light breakfast was served at 6:30 AM and by 7 AM we left for the game drive. About 10:30 AM we returned for breakfast or lunch. At 3:30 PM we met for drinks and food and left by 4 PM for the next game drive. At sunset about 6 PM there was a stop for cocktails and more snacks. Upon returning to the camp about 7:30 PM we were served drinks and dinner was at about 8 PM. The food, by the way, is exceptional. The wildlife is breathtaking and the guiding is superior. The accommodations are very plush and better than any suite at a Ritz Carlton. It's not just about the level of accommodation or the thread count of the linen. They encompass elements that cannot be counted or measured. The customer service is a "10." That is why I am writing about them.
About their people
Wilderness, in their selection and training, take very shy people and transform them into warm customer-driven employees who smile, call you by name and go out of their way to help you. They all love their jobs even though they are paid only a few hundred dollars a month.
I was picked up by Evas at the airstrip to go to the camp. These are links to his comments. Evas is in training to be a guide. He loves his job. Around 27 years old. Makes 1500 Pula a month. This is about $160 USD. All employees work for 2 months 7 days a week and then get one month off. Wilderness Safari flies them home. Each camp is in the Wilderness. Each country they have camps that require by law they hire employees from the local area. Each camp is in a very isolated part of the country. The employees they have to pick from are less educated than ANYONE you will have to choose from. In Botswana the population tends to be very shy and very soft spoken. Diamonds fund the country. (A girl's best friend). Botswana has about 2 million people and is the size of Texas.
From Kings Pool we all flew to North Vumbura camp. A smaller camp with room for about 16 guests. Service again was incredible. The guiding, food and accommodations are unbelievable. The kitchen staff sang to me but I cannot find the SD card with the video.
On June 2-3 I did a two day seminar in Gaborone the capital of Botswana for the leading businesses and government in Botswana for a seminar Thilo Naicker, the owner of InXcellence sponsored. I used Wilderness Safari as a role model that they could copy. I also used the information on Wilderness in my Amadeus seminar in Kenya on May 17 for 300 travel agents. Amadeus is the leading software supplier to the travel industry.
Why I'm wild about Wilderness Safari and what lessons you can learn from them:
They take shy uneducated employees and develop them into customer driven employees





They all love their job and it shows.





They have no rules. The customer does what he wants.





If the bar is not staffed (which usually it is) just help yourself.




At each camp when you arrive in your tent you have a

handwritten note

with your name on it that welcomes you to the camp.



The night before you leave each camp they have another handwritten note with your name on it thanking you for coming and telling you when to have your bags ready for pickup and when you will depart for the airport.





The employees all smile and are all very friendly.





They use your name.





Everything is focused on the customer experience





When you leave for the game drive and when you return staff is there to greet you.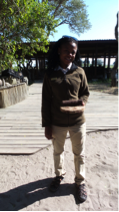 Kings Pool
11. They have cold towels to wash your face and hands when you return from each game drive.
When you deliver great customer service you have very loyal customers. Vernon Hill, the author of Fans Not Customers and Founder of Metro Bank London and Commerce Bank in the US says fans are more loyal and sell for you. Check out his book.
I am a fan of Wilderness Safari. I have been on 8 safaris and 4 with Wilderness Safari. I have hundreds of options. I am in Africa several times a year. Frankly, I am not willing to gamble going on a safari with another company when I have the best in the world.Wilderness Safari has 60 luxury camps in 9 African Countries.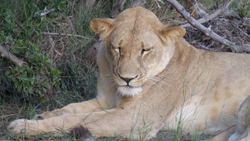 Like I mentioned, this is my 4th safari with them. Every now and then I like to touch heaven. Wilderness Safari has by far the best customer service in Africa and very few firms in the world could compete with their level of great service. My wife and son agreed with me. They both want to go back. Wilderness Safari has 60 luxury camps in 9 African Countries. This is their financial information for the fiscal year ending in February 2014 (DOWNLOAD)

See more photos of John's trip! View Photos Now